Down With Basics » Health » Why Will "Sick Care" Now Replace Health Care in the U.S.?
How Might You Benefit or Lose Out?
As you likely are "well" aware by now, the House of Representatives passed the health care reform bill that had been approved by the Senate in December.
President Barack Obama called the move "a victory for the American people" and said it "answers the prayers of every American who has hoped deeply for something to be done about a health care system that works for insurance companies, but not for ordinary people."
So what will change now that "health care reform" is finally here?
The Health Care Reform Bill in a Nutshell
Polls show the country is nearly evenly divided on their reactions to the health care bill. According to one USA Today/Gallup poll conducted at the end of March, 47 percent of Americans believe the new legislation is a good thing, while 50 percent feel it's bad (3 percent had no opinion).
Still, a separate USA Today/Gallup poll found that many believe the plan falls short. According to a survey of over 1,000 adults, 48 percent said that although the new health care bill is a good first step, more changes are needed. Another 31 percent said the plan "makes the wrong type of changes."
Before we delve into what may be missing from the plan, let's first take a look at what it contains:
Insurance companies cannot deny coverage to children with pre-existing medical conditions, nor will they be able to do so to adults come 2014.
Young adults will be able to stay on their parents' insurance plan until age 26.
Lifetime caps on how much insurance benefit you can receive in your lifetime will be limited and banned altogether in 2014.
Your insurance can no longer be revoked if you get sick.
Indoor tanning services will be taxed 10 percent beginning July 1, 2010. Late Night Jimmy Kimmel stated "The weirdest…. a tax on tanning salons seems very convenient for a black President to me, I have to say." Obviously said in jest.
In 2014, you'll be required to buy health insurance, or face an annual fine.
By Law You and Everyone Must Soon Buy Health Insurance
However, as written in the New York Times, this may or may not be strictly enforced:
"Although most Americans who do not obtain health insurance would face a federal penalty starting in 2014, many experts question how strict the enforcement of that penalty would actually be.

The first year, consumers who did not have insurance would owe $95, or 1 percent of income, whichever is greater. But the penalty would subsequently rise, reaching $695, or 2 percent of income.

Families who fall below the income-tax filing thresholds would not owe anything."
So while you will likely be fined if you don't have health insurance, the fine is likely to be thousands less than the cost of buying insurance — unless you're seriously ill or have a pre-existing disease. The good news is that, come 2014, the insurance companies can't turn you down if you apply for coverage during an illness or after learning you have an illness.
So for millions of people paying a fine, rather than paying for health insurance premiums, would amount to thousands of dollars in savings.
Basically all the benefits to this plan are loaded into the first few years and the big penalties begin after 2014.
What will happen if everyone takes advantage of these benefits now?
Those paying for health insurance are likely to see significant increases in costs while more people drop off until they absolutely must have "sick-care" health insurance to help cover their major costs.
Either way more and more people are paying cash direct for their doctors' visits while being given information to file with their insurance companies directly.
No Pre-Existing Conditions Can be Denied Come 2014
Do you now really need to get insured? Unless you need sick-care?
No matter which side of the isle you were on before the health care bill was passed, the facts are becoming more and more clear that this is going to be a very lopsided set of benefits that you can take advantage of or be taken advantage of … whichever you prefer.
Here's how!
First do the math. If you are willing to pay the fine come 2014 for not having insurance it appears that you will be able to pay many times less a year to simply pay for doctors and general health tests out of pocket. This will likely be much less than insurance premiums and deductibles … unless you are sick and need hospitalization, sick-care, drugs, expensive surgery, etc.
That's the catch to your advantage if you're currently not insured. WHY?
Come 2014, once you are sick no insurance company can turn you down according to federal law. No precondition refusals will be acceptable and incremental increases in fees for being sick will no longer be acceptable either.
If that is true and remains true the burden is spread across all insured while you were able to pay a fine that costs much less than what we at SixWise.com are coining the phrase "Sick-care Insurance."
Do the Math!
Look at your annual doctor costs. If you could pay your doctor up front a flat fee of say a few hundred dollars for annual exams and tests, then if any concerns crop up you then go get insurance, what amount would you pay vs. paying insurance and the deductible each year?
Our guess is the costs will be much paying your doctor out-of-pocket for annual exams while not having insurance.
One Important Caveat!
This scenario does not account for accidents or emergency injuries or illnesses, which can require extensive medical care that can quickly add up to thousands or hundreds of thousands of dollars (or more).
So to protect yourself from the costs of unexpected injuries, sudden illness or other health emergencies, we recommend getting at least a basic insurance plan that will protect you from such expenses.
Government-Run Health Care … a Good Thing or a Bad Thing?
In the video above, William Kristol talks to Jon Stewart on health care….
These above are not SixWise Management Opinions or recommendations. In Fact SixWise Management believes that both sides of the isle are equally responsible for increasing costs that do little to improve the quality of life for the US population. Instead, they continue to dramatically add to the US debt and other costs that are out of control and certain to increase taxes and reduce the quality of life for all.
The below picture while "Cute" is a sad but true legacy for our children and grandchildren: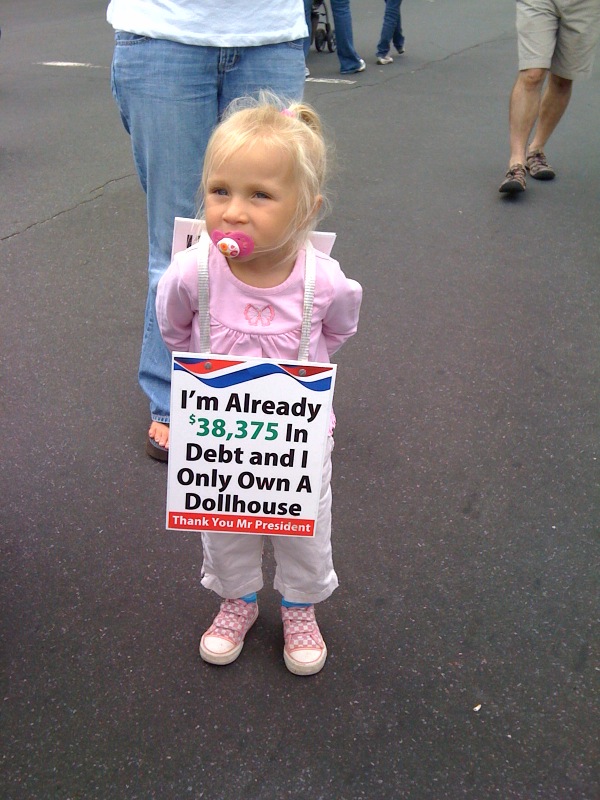 We believe the federal government's purpose should be and revert back to our country's Founding Fathers 1776 stated simple intentions of protecting the individual rights of each US citizen.
We seek to get behind future U.S. leaders who base their intentions and actions fully in mind of the Founding Fathers' written and stated principles we all agree upon as citizens of the U.S.
If either party or a new political party would simplify their intentions down to a brief outline combining the Constitution, Declaration of Independence and Bill of Rights, eliminating all that does not stick thereby, it would simplify and stop the growing big government spending and loss of our rights.
For example, abortions (while a highly emotional topic for many being one of the biggest issues), reverting back to the basic construct of these US Federal Principles, would not be funded nor controlled on a federal level, reducing it to state and local governing levels. It does not stick on either side as a federal basis.
Reconstruction of Governing Principles would dramatically reduce and eventually eliminate all big government costs and all special interest ideology for everyone on both sides to the simple protection of our individual rights as was the original intentions of the Founding Fathers.
What is Missing in the Health Care "Reform" Bill?
None of the new legislation actually includes steps that will make you healthier! As Mike Adams, the Health Ranger, recently wrote:
"There's only one problem with this health care reform bill: It doesn't reform health care. It has almost nothing to do with health care at all, in fact: It's really more of an effort to expand a broken sick-care system.

When faced with the problem that our sick-care system doesn't work, Congress somehow decided that fixing the problem merely involved expanding the failures to include everyone!

And you don't even get a choice in the matter, either. All Americans are now required to pay into a sick-care system of monopolized, pharmaceutical medicine even if they reject that failed system of medicine.

So the healthy people who actually take responsibility for their health are financially penalized and forced to subsidize profits for drug companies!"
STAYING WELL AND HEALTHY will remain IMPORTANT if not become more URGENT than ever before!
Source: SixWise.com
Related posts:
Filed under: Health · Tags: health, health insurance, Healthcare bill, insurance